The Association of Central Eurasian Students (ACES) at Indiana University hosted the 25th Annual International ACES Conference, "Authority and Legitimacy in Central Eurasia," on Saturday, February 23, 2019, at the Hamilton Lugar School of Global and International Studies. 38 panelists from 14 universities representing seven countries joined IU students and faculty for a day of engaging scholarship about Central Eurasia. Panelists presented from a variety of disciplinary perspectives on a diverse array of topics, including natural resource use, Islam, national identity, migration, and the environment in Central Eurasia.

Dr. Mark C. Elliott, Vice Provost of International Affairs and the Mark Schwartz Professor of Chinese and Inner Asian History at Harvard University, delivered the keynote address, "Historical and Historiographical Legitimacy: Reviewing the Debate over the New Qing History." Dr. Elliott expounded on the discursive controversy surrounding the New Qing History, an approach emphasizing the imprint of Inner Asian traditions upon China's last imperial state. His enlightening presentation was followed by a dinner reception at the Mathers Museum of World Cultures, highlighting the current exhibit, "Through the Eyes of Durdy Bayramov: Turkmen Village Life, 1960 – 80s."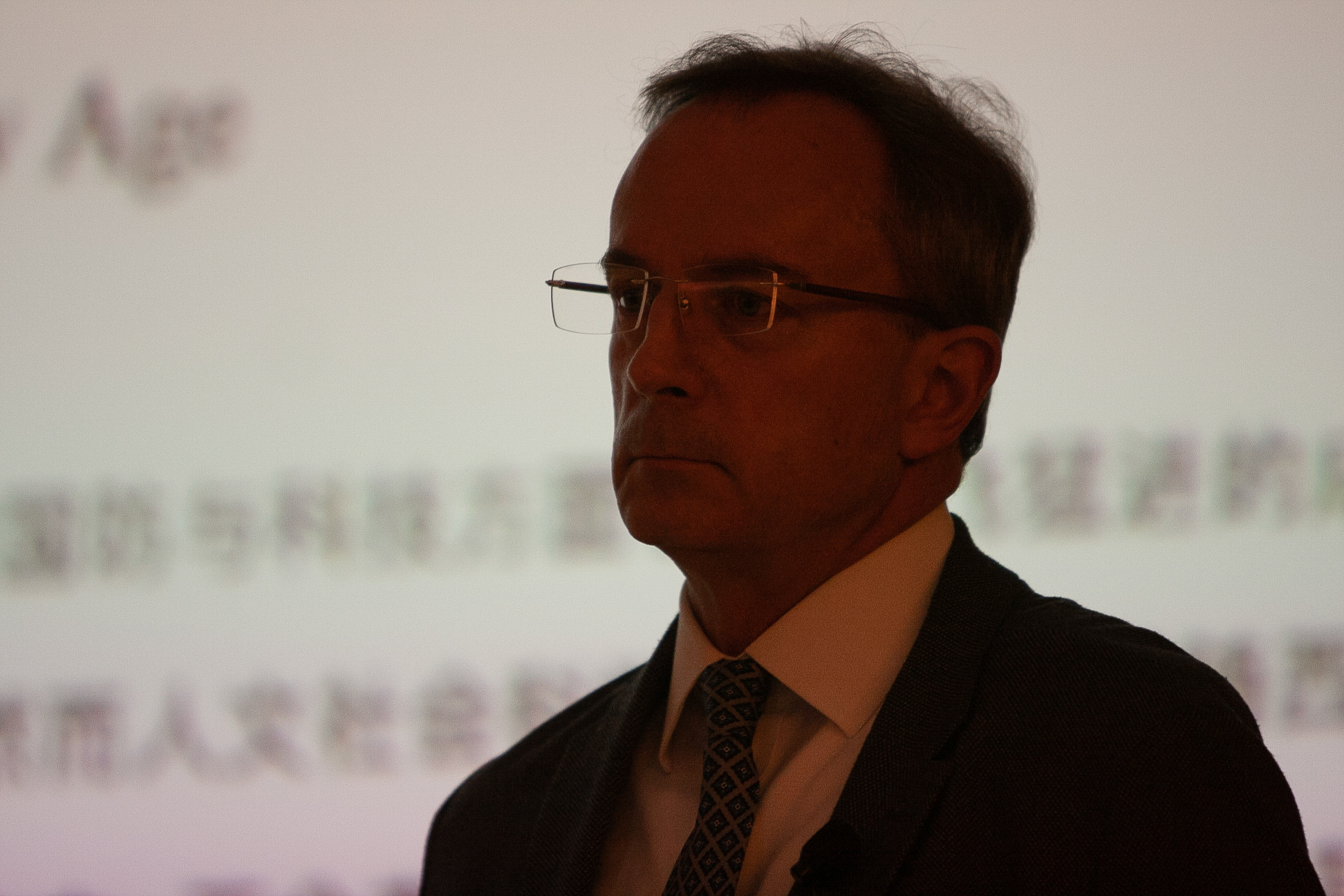 Mark C. Elliott responds to questions after his keynote address.

ACES was proud to host an inaugural undergraduate research panel. IU students Quentin Swaryczewski and Chen Wu gave presentations on Udmurt cultural revival and expression in the 1980s and 1990s, and the life of the Sixth Arjia Hutugtu, respectively. The innovative inclusion of an undergrad panel in this year's conference showcases the growth of undergraduate interest in studying Central Eurasia since the introduction of undergraduate majors and minors in the Department of Central Eurasian Studies. In addition, the panel provided a novel opportunity for undergraduates to present their research and receive feedback from graduate students as well as faculty in an academic conference setting.

Quentin Swaryczewski and Chen Wu present their papers.
This year's conference builds upon past successes in organizing these meetings. The conference provides scholars from around the globe with a valuable opportunity to present their research and network with other specialists on the region at IU. It is also a constructive opportunity for ACES members to gain experience organizing a major academic conference and building strong ties with the faculty. The conference increases the visibility of Central Eurasian Studies on campus and beyond. Over the last 25 years, hundreds of attendees have utilized the conference as a venue for presenting their research and building connections with other scholars. Past keynote speakers have included Nicola Di Cosmo, Beatrice Forbes Manz, Robert McChesney, and. Peter B. Golden.

The ACES Conference Committee acknowledges the tireless efforts of the individuals and institutions who helped make the 2019 ACES Conference a success, including the Inner Asian and Uralic National Resource Center, and will release a call for papers for the 2020 ACES conference, tentatively scheduled for late February or early March, shortly after the next academic year begins.
Related links
View additional photos from the conference
Visit the Association for Central Eurasian Students' website