On March 27, Dr. Birute Klaas-Lang, professor of Estonian as a Foreign Language and head of the Department for Applied Linguistics at the University of Tartu, delivered a Jean and Denis Sinor Faculty Fellowship Lecture titled "Future of Estonian-Medium University Education." Dr. Klaas-Lang's research analyzes the historical relationship between Estonian state language legislation, language-of-instruction (LOI) policy in Estonian institutions of higher education, and the status of Estonian language relative to English and Russian. After the dissolution of the Soviet Union in 1991, each of the former Soviet republics was faced with the task of constructing complex social, political, and linguistic contexts for the legitimization of state language policy and the strengthening of educational and intellectual capital via their respective state languages. Estonian, as Dr. Klaas-Lang demonstrated, was a unique case among these republics, due to the relatively stable status of Estonian as a primary research language and LOI for Estonian institutions during the Soviet era. In 1975, language policy for graduate and doctoral programs was modified to establish Russian as the sole language of dissertation submission and defense, indicating a peak of centralized Soviet language policy controls for the republic. Despite these controls, Estonian remained prominent as a LOI and research publication language for the duration of Soviet occupation, and Estonian-Russian bilingual university enrollment was high in the years leading up to dissolution.
According to student enrollment data in Estonian universities in 1991, Russian-LOI enrollment was at 17%, with Estonian and English LOI at 82% and 1%, respectively. Currently, an approximate 14% of full-time students study in English at Estonian universities. The low salary and generally lackluster perceptions of academic careers, based on Dr. Klaas-Lang's research, hinders progress for everyday use and learning of both Estonian and English. In addition to comparative analysis of Soviet and modern Estonian legislation, her research included a comprehensive data set based on students' and professors' observations of Estonian use in university departments. The survey responses were based on whether a participant saw a certain concept regularly implemented, and whether the individual thought such a concept was important. Dr. Klaas-Lang's research supported the conclusion that the consensus of participants' observations focused on department heads' Estonian proficiency: students and professors observed consistent Estonian use from directors and agreed that this is an important concept to maintain.

The long-term development of Estonian depends on the spread of intellectual capital through both professional and academic use. In 2020, legislation was passed requiring L2 proficiency and/or progress towards communicative ability for permanent employment contracts in Estonian universities. Currently, Estonian-LOI institutions and programs are free by policy, whereas English-LOI programs are permitted to charge tuition. As Dr. Klaas-Lang concluded, institutional policy, funding, and scaffolded institutional change are most important for retaining and increasing Estonian use: "community-based language learning in the university work environment will not happen spontaneously." Increasing Estonian-parallel language use and interaction between Estonian and international faculty in Estonian are also among the avenues Dr. Klaas-Lang highlighted as reliable for future language status development.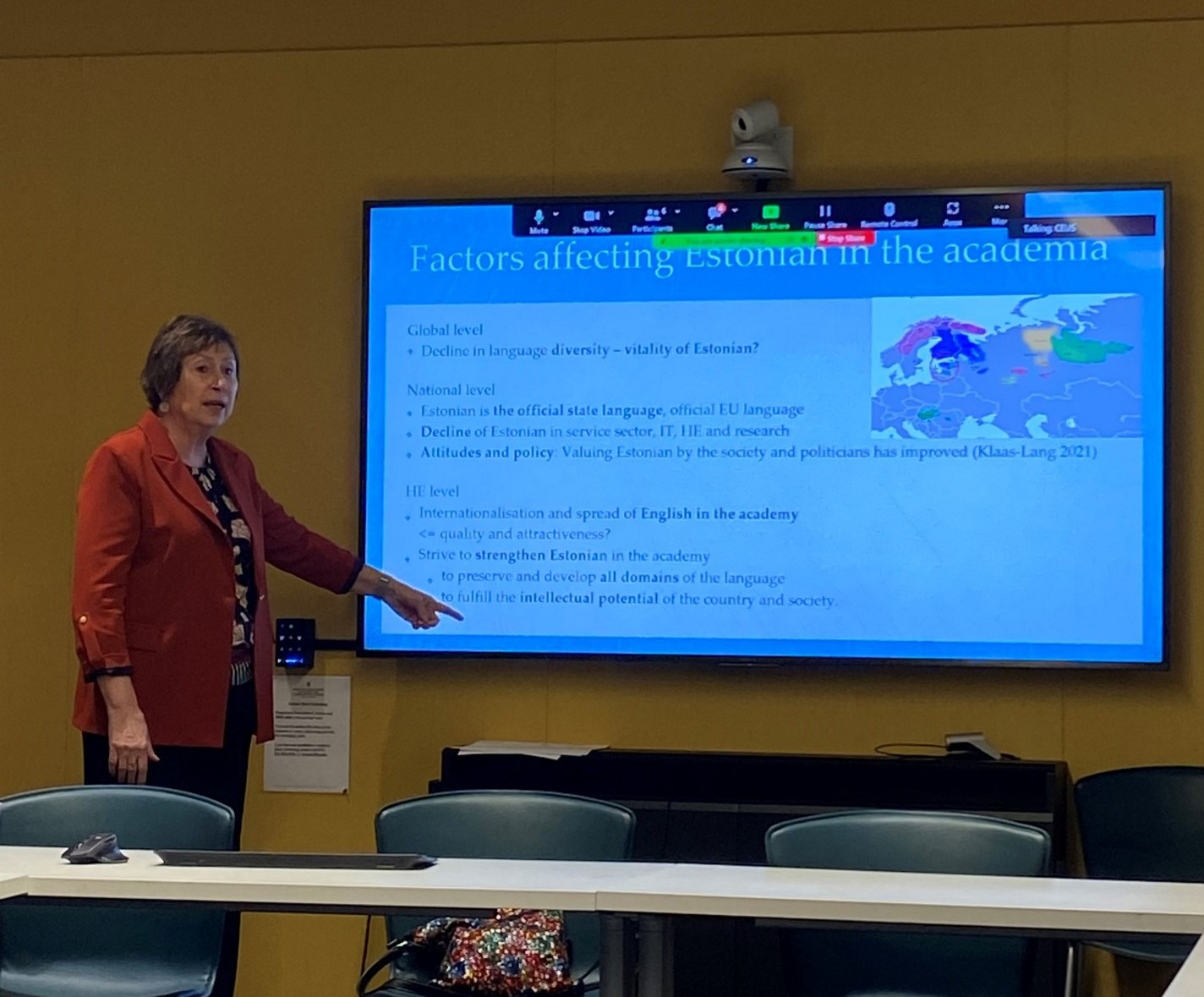 Image description: Dr. Klaas-Lang presents her research to the IU community.
Birute Klaas-Lang has made immense contributions to the fields of Estonian language pedagogy, Estonian language teaching, and cooperation between Estonian and global academic institutions as well as with the IU community. The IAUNRC is proud to have assisted in organizing her lecture, which reflected the geographical and disciplinary breadth that the center strives to support.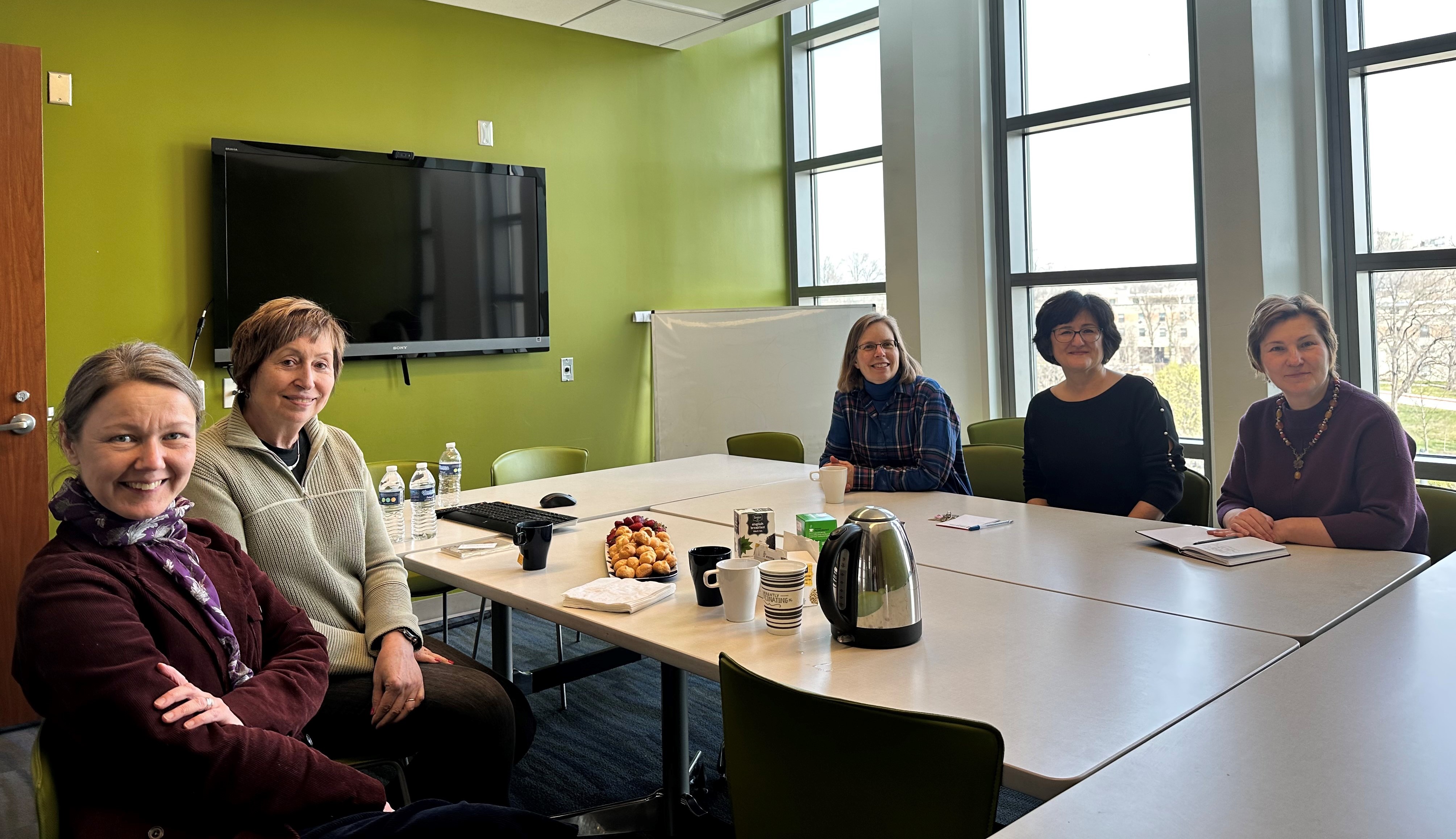 Image description: Klaas-Lang meets with IU faculty for tea. From left to right: Dr. Piibi-Kai Kivik, Dr. Birute Klaas-Lang, Dr. Marianne Kamp, Dr. Gulnisa Nazarova, Dr. Svitlana Melnyk.