In October of 2022, the Department of Central Eurasian Studies and the Inner Asian and Uralic National Resource Center proudly hosted the 23rd Annual Conference of the Central Eurasian Studies Society (CESS). The CESS Annual Conference provides a platform for scholars from all fields who study Central Eurasia, defined by CESS as "Central Asia, the Caucasus, Iran, Afghanistan, Tibet, Mongolia, Siberia, Inner Asia, the Black Sea region, the Volga region, and East and Central Europe," to present their research and receive feedback from their peers. This year, the conference spanned four days and consisted of more than 70 panels with 200+ panelists.
Planning and running the CESS Conference was a massive undertaking that required the labor of many different members of the IU community. CESS Conference coordinators, including IU faculty, staff, and students, began organizing the conference in March, making preparations with local hotels and restaurants, as well as reserving rooms around campus. CEUS Associate Professor Marianne Kamp and IAUNRC Assistant Director Kasia Rydel-Johnston worked tirelessly to facilitate travel for scholars from Central Asia to visit the US, and graduate assistants Casey Edgarian, Matt Hulstine, and Anton Ermakov coordinated with IU Conferences staff to make sure the technology was in place to run a successful hybrid conference.
This year's CESS conference was only possible with the dedicated efforts of IU student volunteers. In total, these volunteers worked for more than 175 hours over four days, during which time they worked as Zoom moderators, tech support, at the information and registration table, and helped set up before and clean up after each day of the conference. Despite the inevitable technical and logistical challenges which arose over course of the weekend, the conference by and large proceeded smoothly and efficiently thanks to the committed efforts of these students. Many of these volunteers wore multiple hats for this event, as they also participated in panels where they presented their own research. We are especially grateful to undergraduates and graduate students from outside of the Central Eurasian Studies department who volunteered to help with this massive undertaking. Thank you to the following student volunteers:
Aleksei Rumiantsev, Anton Ermakov, Ardahbek Amantur, Audrey Killian, Bethany Barone, Casey Edgarian, Daniil Kabotyanski, Dulat Ilyasov, Eleanor Womack, Frank Daley-Young, Gulnisa Yusupova, Hale Ozcan, Isabel Hastings, Jack Szczuka, Jing (Maggie) Xu, Jonas Fos, Joshua Sims, Larissa Cerbin, Lindsay Ruth, Lindsey Grutchfield, Mary Papadopoulos, Mike Krautkramer, Mira Kuzhakhmetova, Nicholas Siambekos, Nodira Ibragimova, Nyamgerel Purevjav, Rabia Han, Raisa Dibble, Stu McLaughlin, and Zofia Ahmad.
The 2022 CESS Conference was held in conjunction with the 61st Annual Meeting and Conference of the Mongolia Society, a non-profit organization dedicated to promoting the study of Mongolia. In addition to presentations on Mongolian history, philology, art, and religion, the MonSoc conference included a visit by Mongolia's ambassador to the United States, U. Batbayar. Ambassador Batbayar met with representatives from the Indiana University administration to discuss the Agreement of Friendship and Cooperation signed by IU and the National University of Mongolia on March 15, 2022, as well as further opportunities for educational cooperation. The conference also featured cultural programming, including an exhibit of contemporary Mongolian art from the collection of art historian and IUPUI professor Uranchimeg Tsultem and a screening of Robert H. Lieberman's 2021 documentary "Echoes of the Empire: Beyond Genghis Khan". Three of this year's panels were dedicated the memory of the late distinguished Mongolist and IU professor György Kara, who had passed away in April 2022. Professor Kara's memory was further honored at a gathering celebrating his life and career, organized by his students and colleagues on Friday, October 21, 2022. The Mongolia Society's executive director, Susie Drost, played an important role in organizing this year's conference (and many more past MonSoc events). Special thanks are also owed to Sam H. Bass for taking on the lion's share of the organizing for Professor Kara's memorial event, Robert Lieberman for allowing his work to be screened free of charge, and Uranchimeg Tsultem for sharing a part of her art collection with the public.  
The Saturday of the conference schedule, CESS attendees, panelists, and volunteers convened in the Shreve Auditorium of the Global and International Studies Building for a keynote address by Dr. Marlene Laruelle, Director of the Institute for European, Russian and Eurasian Studies at George Washington University and distinguished contributor to the interdisciplinary field of Eurasian Studies. Those attending the keynote were offered time to pose questions to Dr. Laruelle, which became a moment of candid and productive discussion about the most pressing challenges for academics and professionals of all backgrounds. The most popular topics were related to maintaining a high standard of ethics and intersectionality regarding threatened and underrepresented communities of scholars in Eurasian regions. In addition, the keynote addressed the importance of interdisciplinary expertise in explaining the geopolitical consequences of armed conflicts and unrest in Afghanistan and Ukraine. The connection between academic expertise and professional consultation, Laruelle explained, is constantly taking on new and important contexts in an informational sphere that updates in real-time, necessitating decisions informed by deep scholarly knowledge of the Central Eurasian region.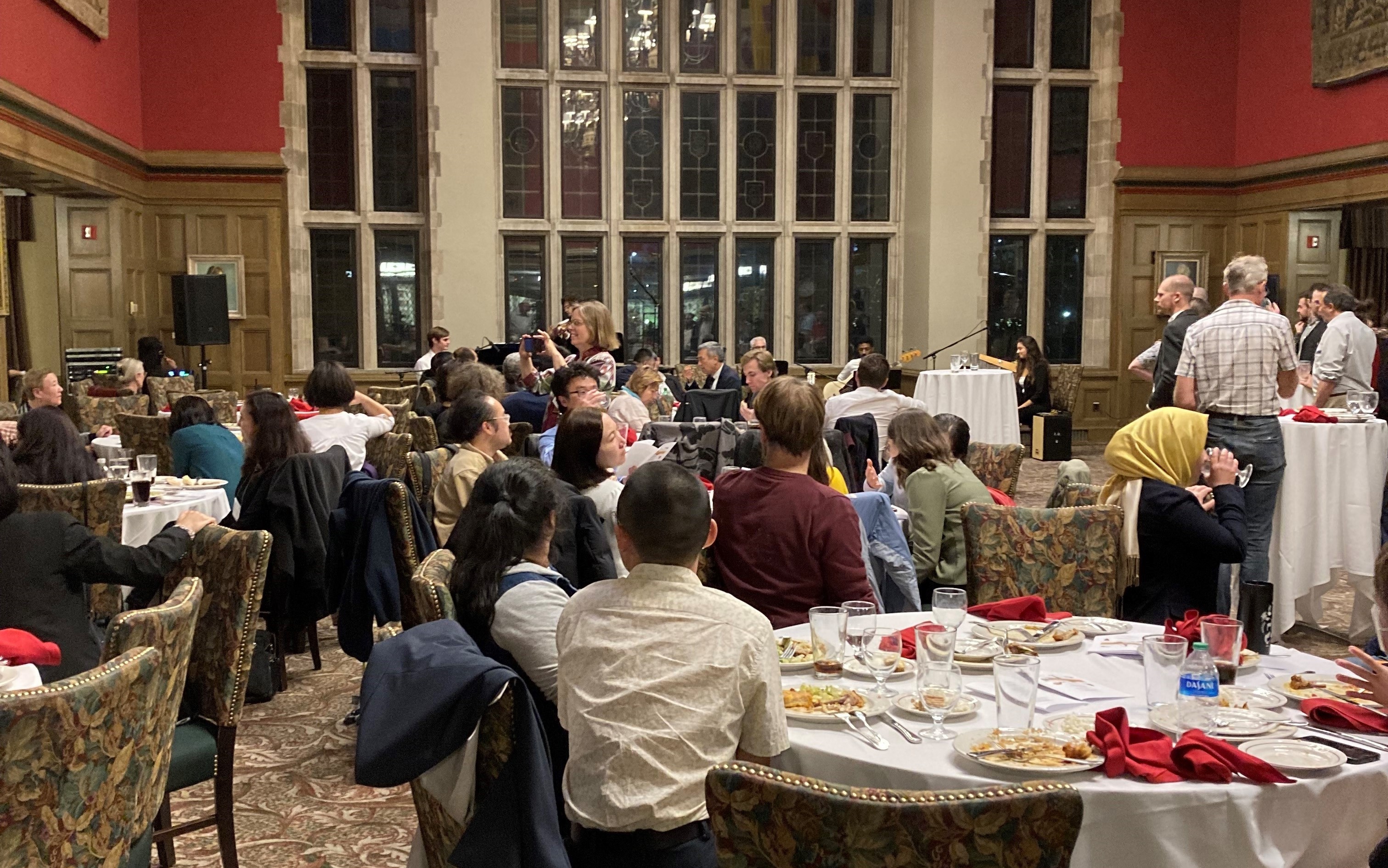 [Image description: guests enjoy dinner at the reception]
On the Saturday of the conference, CESS organizers, presenters, and attendees convened in the Tudor Room of the Indiana Memorial Union for a Eurasian-themed banquet reception. The conference participants had the chance to network and converse with one another, celebrating the expansive communities of knowledge the Society brings together. Guests enjoyed a dinner catered by Little Tibet and Samira, local Himalayan and Afghan restaurants known for their delicious cuisines. After the opening remarks by CESS co-founder, Dr. Marianne Kamp, Bloomington's own Silk Road Ensemble provided musical accompaniment for the evening, including spirited renditions of well-known songs such as "Qara Jorga" and "Chaikhona." The Ensemble, consisting of Central Eurasian Studies senior lecturer Shahyar Daneshgar and students of both Central Eurasian Studies and the IU Jacobs School of Music, performed a variety of pieces, some with a rich heritage in the region, and others demonstrating global influences in a vivid display of eclectic styles. The reception ended after guests had their fill of food, dancing, and socializing.
[Image description: guests dance to music performed by the Bloomington Silk Road Ensemble]
Thank you so much to all of the staff and volunteers who came together to run what was ultimately a very successful conference. The IAUNRC was proud to be part of this prestigious event.