Bloomington Silk Road Ensemble Performs for International Week
On November 9, the Bloomington Silk Road Ensemble performed a concert at the School of Education as part of IU's International Education Week. International Education Week is a national event during which students at universities across the United States celebrate and share their global cultures as well as learn about the benefits of participating in international exchange programs. IU's International Education Week, organized by the Office of International Services, includes a World's Fare and photo contest, as well as various cultural performances.
The Bloomington-based Silk Road Ensemble, consisting of U.S. and international professional artists serves, as the voice and cultural ambassador of the historical Silk Road, a geographic entity encompassing the North Africa, Middle East, Mediterranean regions, Caucasus, Central Asia, the Indian subcontinent, and China. Led by CEUS instructor Dr. Shahyar Daneshgar, the group consists of undergraduate and graduate students from several departments across IU. The IAUNRC was proud to sponsor this performance alongside other HLS centers.
[Image description: advertising materials for the Silk Road Ensemble concert]
Dr. Marianne Kamp Speaks at Meadowood Retirement Community
On December 13, the IAUNRC funded Dr. Marianne Kamp of the Department of Central Eurasian Studies to give a talk at Meadowood Retirement Community as part of the "Great Decisions" series organized by the IU Center for the Study of Global Change. This series is part of a nationwide program created by the Foreign Policy Association, organized by the Indiana Council on World Affairs at the state level, which encourages citizens to consider and discuss world affairs with their communities.
In this iteration of the series, Dr. Kamp gave a presentation titled: "US Economic Policy in the era of One Belt One Road." Building on a Great Decisions video lecture concerning US Industrial Policy, Kamp's talk pivoted to Central Asia, illustrating China's long-term global investment strategies using Kazakhstan as a key example. This talk provided a quick overview of US investment in Kazakhstan in the 1990s, of China's rise to become the country that is willing and able to create new transportation links across Eurasia, and of Kazakhstan's multi-vector policy that seeks to keep big powers constructively engaged while deterring domination by any one country (China, Russia, or US). Finally, Kamp raised comparisons between China's and America's industrial policies returning to themes raised in the Great Decisions text and lecture on US economic policy shifts toward more intervention in support of critical technologies. Thank you to Dr. Kamp for providing this insightful presentation, and the IAUNRC looks forward to working with Meadowood Retirement Community and other community organizations in the future.
The State of HIV/AIDS Around the World Panel Discussion
During the weekend of November 10-12, the IAUNRC participated in events associated with the AIDS Memorial Quilt Exhibition at the Indiana Memorial Union, presented by the IU Student Health Center. This series of events centered on memorializing victims of the AIDS epidemic as well as providing community education on HIV/AIDS best practices, including free HIV testing and workshops focused on decriminalizing HIV. As part of this series, the IAUNRC joined other HLS centers for a panel discussion on "The State of HIV/AIDS Around the World." The IAUNRC co-sponsored Alissa Davis, Assistant Professor of Social Work at Columbus University, who discussed current issues and practices surrounding HIV/AIDS in Eastern Europe and Central Asia. Alissa's research focuses on the development of interventions to improve linkage to and retention in care for HIV/STI and substance use services for marginalized populations, including racial/ethnic and sexual minorities, individuals involved with the criminal justice system, and people who inject drugs (PWID). Her work has been supported by the National Institute of Drug Abuse, the National Institute of Mental Health, the Fogarty International Center, and the Mellon Foundation.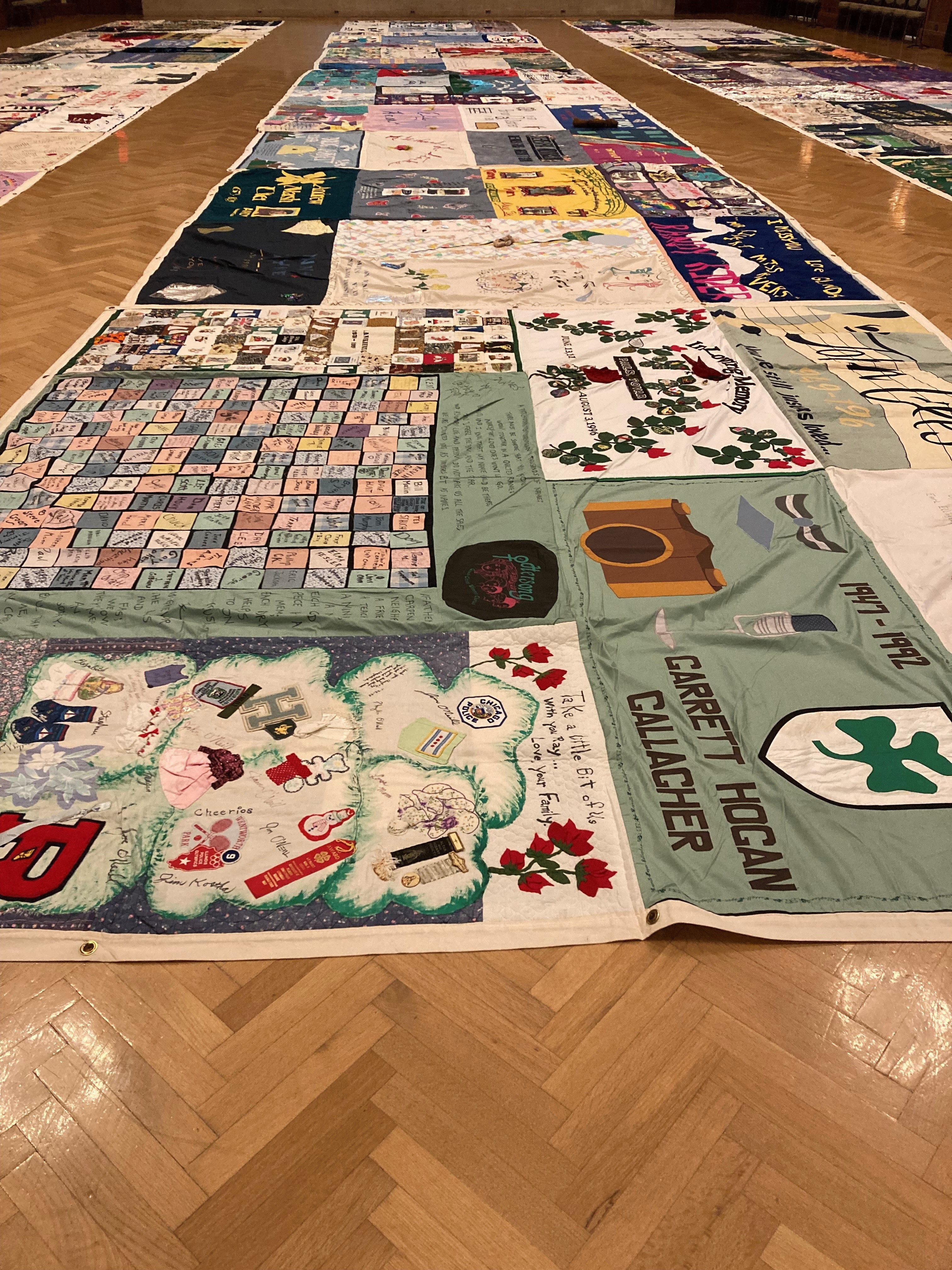 [Image description: AIDS Memorial Quilt displayed in the Indiana Memorial Union]
Iranian Student Support Meeting
At the end of the Fall 2022 semester, Mohamadreza Babaee of the Department of Theatre, Drama, and Contemporary Dance organized a gathering to support Iranian students at IU along with other Iranian faculty members from IU, including Shahyar Daneshgar of the Department of Central Eurasian Studies. Students and faculty gathered to socialize and form new networks to support each other through difficult times. Professor Babaee describes the importance of this event:
"As the world is witnessing Iran going through a social and political transformation, it behooves us, as a University committed to the well-being of our students, to support our Iranian students. The Iranian student collective at IU comprises a significant number of undergraduate and graduate students who are active throughout the campus, functioning as vital members of the larger Bloomington community. Most of these students have left their homeland and families to pursue excellence in research, scholarship, arts, and creative activities. Being away from home and loved ones adds a substantial layer of hardship to the pain that Iranian students need to endure as they see their country in violent turmoil."
Events like this, he said, provide "our Iranian students with a safe space to break bread, commiserate, and build spontaneous networks of support to help each other navigate trauma, loss, and suffering at home and diaspora. The timing is particularly important as we are drawing close to the end of the fall semester and many international students are separated from their Departmental communities for the holiday season."
The Inner Asian and Uralic National Resource Center was proud to co-sponsor this important event along with the Center for the Study of the Middle East and the Center for the Study of Global Change.
IAUNRC GA Translator at International Conference on Preservation of Uyghur Culture in the Middle of a Genocide
Stu McLaughlin, a graduate assistant at the IAUNRC, worked as a translator for attendees and panelists at the International Conference on Preservation of Uyghur Culture in the Middle of a Genocide from 12/8-10/2022. The conference was hosted by the Elliott School of International Affairs of George Washington University, in cooperation with several academic institutions and global organizations, including: Indiana University; Drexel University; Uyghur Academy; Uyghur America Association; Japan Uyghur Association; and the Campaign for Uyghurs.  The event began with opening remarks from the heads of several organizations welcoming attendees and providing information regarding the two-day panel schedules. Scholars of Uyghur history, literature, musicology, and Inner Asian area studies topics convened to present on relevant themes regarding cultural preservation and means of ensuring vital aspects of language and heritage for future generations of Uyghurs. The following day, Uyghur activists, publishers, pedgagogues, writers, and scholars of various fields presented on the state of Uyghur language education, literary publishing, media, arts, and music. Stu provided on-site assistance for the conference's multilingual attendees, communicating in a variety of Turkic languages, English, and Russian.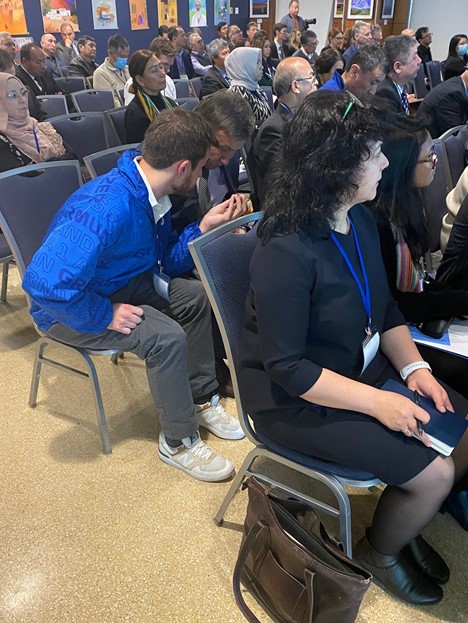 [Image description: Stu McLaughlin translates a talk from English into Russian for an attendee of the conference]