The Finnish National Agency for Education (EDUFI), the Finnish Literature Exchange (FILI), and the Department of Central Eurasian Studies (CEUS) at Indiana University organized an intensive seminar for prospective Finnish literary translators on May 21-25, 2018 at IU. The seminar had 10 student participants from all around the country, including the University of Minnesota, Brigham Young University, University of Washington, University of Wisconsin-Madison, and three students from IU. The seminar also included its organizer, Dr. Owen Witesman, and two faculty participants: Elisa Räsänen (IU) and Daniel Karvonen (University of Minnesota). The seminar consisted of translation workshops, lectures, and Zoom meetings with professional translators. CEUS hosted an accompanying public lecture series entitled "Fin(n)ishing Touches: On Translating a Language that Just isn't English" that addresses topics including Finnish syntax, Finnish literature, and literary translation as a profession. In the evenings, students participated in an extracurricular program organized by the IU Finnish program to deepen their understanding of Finnish culture. For example, students played a game of mölkky, a popular Finnish yard game, and gathered in the Global and International Studies Building auditorium for a Finnish movie night. 
The following interview between Owen Witesman and Center staff provides some deeper insight into this event and its significance for Finnish studies in North America.
What prompted you to organize the seminar this year? Was this seminar a project you had been envisioning for a long time? How did you locate institutional and funding support? Is this an event that might be held again in the future? 
The seminar was the brainchild of the Finnish Literature Exchange (FILI), a division of the Finnish Literature Society, and the Finnish National Agency for Education (EDUFI), which falls under the Ministry of Education and Culture. EDUFI supports Finnish language teaching around the world, including at IU. At a summer gathering in Finland the year before our translation seminar, the Finnish instructors from universities in North America came up with the initial idea to bring their students together. When FILI became involved, they invited me to lead the course. Funding was provided jointly by FILI and EDUFI.

I expect that something like this will be held again in the future, but there aren't any immediate plans. EDUFI is always looking for ways to promote educational exchanges and the international use of the Finnish language, just like FILI is always looking for ways to promote the translation of Finnish literature, so future seminars will depend on finding ways to serve those goals.
Were any components of the seminar especially successful in your mind? What were the most formidable challenges that you faced while organizing this event?
If anything, we wished we could have had more time, particularly for our translation sessions. Each day we had a guest speaker join us via Zoom: representatives from EDUFI and FILI, Riitta Uotila and Tiia Strandén talking about educational exchange and translation support programs, Hanna Kjellberg, a foreign rights agent from a publisher in Finland talking about the literary rights market, Douglas Robinson, a translation theorist from Hong Kong Baptist University, and Christina Saarinen, a fellow translator from New York whom I've mentored in the past. I found these sessions more successful and rewarding than I had even hoped. I also invited our visiting faculty members, Elisa and Dan, to give lectures, both of which were excellent.
To be entirely frank, the biggest challenge was getting student applicants to respond to emails, since apparently many young people aren't using it much anymore. It's easy to make light of that, but it has serious implications for employment, since the business world is still very much using email.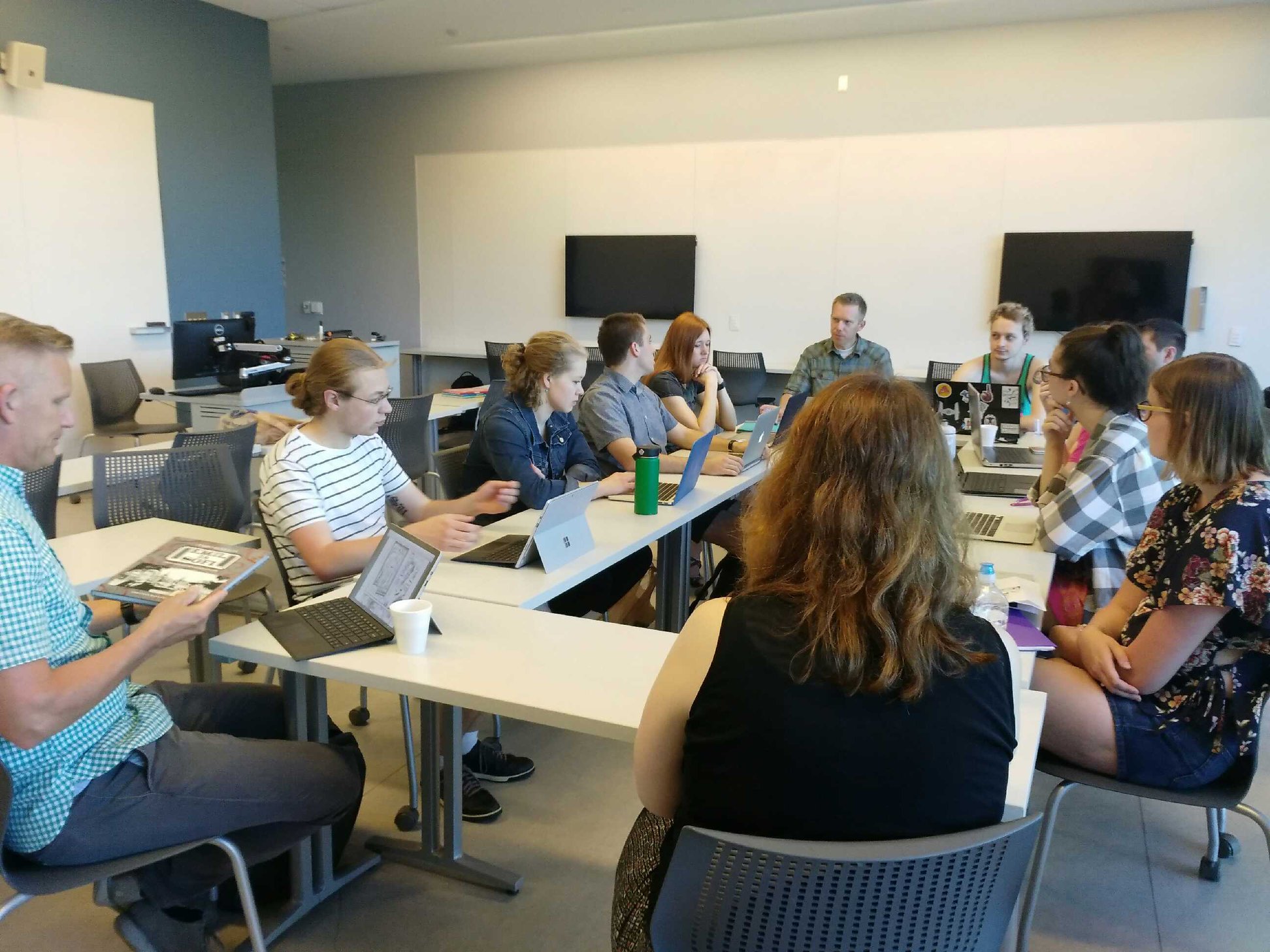 What were the most important goals of the seminar from your perspective? Did the seminar achieve those goals? In what specific ways did the seminar contribute to the professionalization of those interested in literary translation?
The overall goals of the seminar were two-fold and reflected the missions of the funding organizations. From the EDUFI perspective, we were trying to supplement the students' Finnish language instruction. This is why the seminar was only open to current students and very recent graduates. From the FILI perspective, we were trying to expand the pool of potential future translators of Finnish into English. From my perspective, the seminar was very successful in both regards. I fully expect these students to be more likely to maintain their educational and professional connections to Finland in general, although only time will tell whether any of them becomes a translator. This seminar was unique in its focus on professionalization, which is a theme I have been pushing hard in all of the work I've done with FILI over several years.
How does literary translation contribute to an enhanced understanding of Finnish language and literature or of Finland?
For non-Finnish speakers, translated literature is all the Finnish-language literature they will ever have access to, so literary translators are essential for cultural communication. For students of Finnish, translation studies and translation exercises offer an additional depth of understanding of the language that they often wouldn't ever attain otherwise. Translation is both an intense exercise in writing and in reading, and a student is unlikely to ever read any text as closely as they read something they are translating. I believe that literary translation should be used more than it is in language instruction, and I've always thought it was odd that graduate language programs usually don't include a translation course.
How did you become interested in Finnish and the field of literary translation more generally?
My initial contact with Finnish came when I spent two years in Finland as a missionary for the Church of Jesus Christ of Latter-day Saints. Later I completed a BA in linguistics at Brigham Young University, where two of my mentors, Ralph Larson and Mel Luthy, were IU alums and encouraged me to complete a translation as my honors thesis. At IU, I worked with Toivo Raun, Tapio Hokkanen (another EDUFI exchange lecturer), and Piibi-kai Kivik on Finnish and Estonian, and all of them were also supportive of my interest in translation. After finishing my MA at CEUS, I landed an internship with FILI in Helsinki in 2004, which is where things really took off for me. Now, to my knowledge, I'm the most prolific translator of Finnish literature into English ever, although I have some close colleagues who constantly give me a run for my money!
What advice can you offer someone interested in entering the field of literary translation?
First, spend as much time honing your abilities as a writer in your native language as you do as a reader in your foreign language. Your ultimate product as a translator is the text you produce in your native language, so you have to be a good technical and creative writer.  Second, treat translation as a job with value rather than as a hobby. If you have the skills to translate literature, you have the skills to do lots of other valuable things, including translating other types of texts or writing your own work, so keep your opportunity costs in mind. If someone is making money from the work you're producing, you should be too.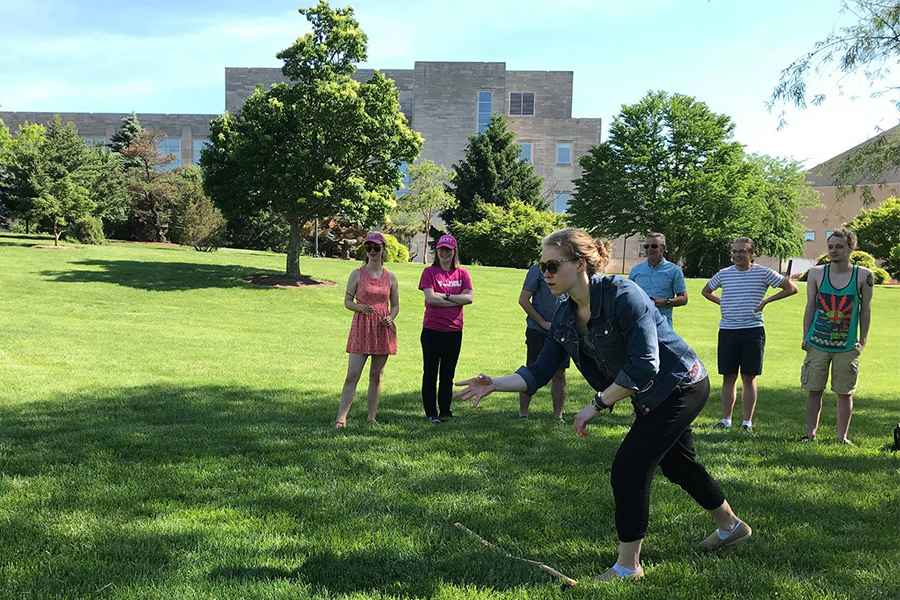 Owen Witesman receieved a Foreign Language and Area Studies Fellowship from the Inner Asian and Uralic National Resource Center to support the study of Finnish during the 2003-4 academic year.
Visit the Finnish at IU Facebook page for more information about studying Finnish in the Department of Central Eurasian Studies at Indiana University Bloomington.
Learn more about Finnish on our Finnish language resource page.