Bringing Central Eurasian languages and cultures into K-12 classrooms is a critical component of the Inner Asian and Uralic National Resource Center's (IAUNRC) mission. The Center supports a variety of programs for students and teachers each year, generally tailored to the individual needs of each partner and available at no charge. Over the course of the 2018-19 academic year, the Center's programs have reached more than 1,000 students and numerous educators in Bloomington and beyond.
Even a few thousand miles cannot stop members of the staff from fulfilling the Center's purpose. Thanks to the Center for Interactive Learning and Collaboration (CILC) and Zoom, an online meeting platform, our presenters have visited classrooms from the western United States to as far away as Senegal. Seventh graders at the International School of Dakar were an enthusiastic audience for our interactive History of the Silk Road presentation, which is just one of several video conference programs available to schools and community providers via the CILC website that cover a broad range of topics related to Central Eurasia. Other titles include Traditional Arts of the Silk Road, Environment and Culture of Tibet, Central Asian Architecture, and Afghanistan in Context.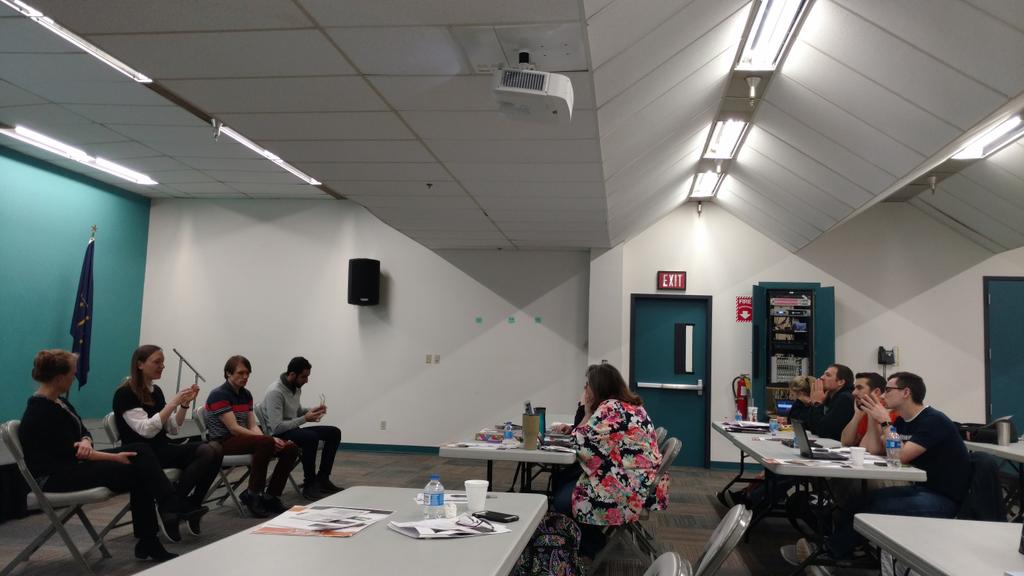 IAUNRC staff at the History and Geography of the World workshops for Indiana teachers organized by the IU Center for P-16 Research and Collaboration
Closer to home, the IAUNRC has for many years been an enthusiastic participant in IU's Bridges: Children, Languages, World program, which aims to spark a lifelong interest in languages and cultures by engaging children in learning languages not usually taught in schools. This year, we worked with two community partners in Bloomington, Girls Inc. and the Banneker Community Center, to introduce young learners to Persian language and culture. In particular, our Persian Culture Club for Banneker's after-school program at Fairview Elementary School has been a great success. As well as learning the language through games and interactive activities, students sampled Persian foods, made Persian sweets and savory pastries, enjoyed making various crafts based on Persian designs, sent secret messages using our very own Persian alphabet code, and celebrated Norouz in true Persian style.
Banneker Community Center Persian Culture Club 
The success of the IAUNRC's outreach efforts in large part relies on the students and teaching assistants from across Eurasia who generously volunteer their time in order to visit schools and share their culture with local schoolchildren and teachers. This year, our volunteers have visited elementary schools in and around Bloomington to talk to kindergarten and first-grade students about traditional celebrations in their home country. Students learning about different traditions and customs in their own and other communities heard about Norouz celebrations in Afghanistan, Hungarian Santa Claus, New Year in Bishkek, and Easter in Finland.
A highlight of our outreach this year was the Mongol Invasion Experience we hosted for middle school students working on a social studies project to design games based on the history of the Mongol conquests. The entire seventh grade of Central Middle School in Columbus, Indiana, spent a morning at Indiana University's Global and International Studies Building taking part in a series of hands-on and interactive activities aimed at increasing their understanding of several aspects of Central Eurasian culture and history. Both students and teachers had the opportunity to explore our Central Eurasian artifacts collection, play games and tell the future with Mongolian shagai (sheep knucklebones), take on our "Geography of the Mongol Invasion" group challenge, and brainstorm game designs with our volunteers.
Finally, our contributions to the two largest outreach events we participate in each year, the Lotus Blossoms World Bazaar and The Project School International Night, were both resounding successes. School students who visited the two-day World Bazaar at Fairview Elementary went away from the IAUNRC table with colorfully decorated Easter twigs — a simple and fun craft which is a traditional feature of Easter celebrations in Finland. Students at The Project School International Night had the option of creating a card or a magnet decorated with a pattern inspired by traditional Kyrgyz felt crafts. Not only do these events give local students the opportunity to engage with cultures from around the world, but they also give IU students a chance to contribute to the Bloomington community. The Center is particularly indebted to its own FLAS fellowship recipients, who assisted Center staff at both events and on whose enthusiasm and willingness to share their experience and knowledge the IAUNRC's outreach programs relies.
IAUNRC staff and volunteers at Lotus Blossoms World Bazaar 2019
The Center always welcomes new partners and encourages educators to contact us with your ideas for a project.
Related Links
Read about our K-12 outreach programs
Learn more about the Mongol Invasion Experience for students from Columbia, Indiana
Explore our lessons plans and other resources for educators