The IAUNRC was pleased to co-sponsor several artists from the Central Eurasian region for the 29th annual Lotus World Music & Arts Festival in September.
The opening performance – held at Trinity Episcopal Church in downtown Bloomington –was given by Monajat, a Persian-Jewish group drawing from influences of religious and secular poetry with musical accompaniments that incorporate unique characteristics from the vocalist's background. Galeet Dardashti, a composer, scholar, and vocalist for the group, tailored the performance to include a unique set of prayers – known as Selihot – to prepare concertgoers for a time of reflection and introspection on the eve of the festival. Selihot, typically recited in the month preceding the Jewish New Year, serves as a strong source of inspiration and heritage for Dardashti, who invoked the mastery of her grandfather and her memories of his recitations as a child.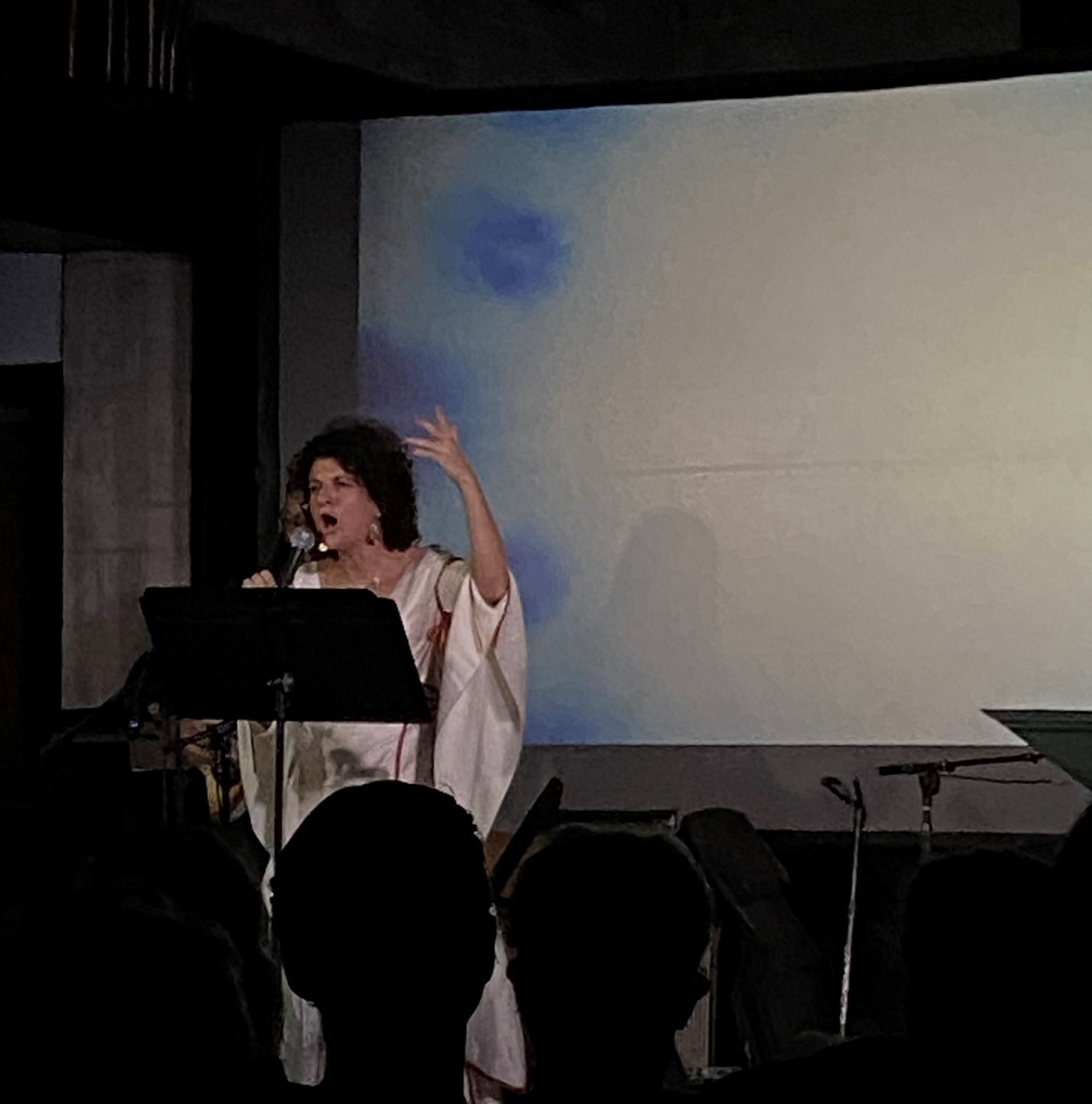 [Image description: Galeet Dardashti performs with Monqiat]
Puuluup, an Estonian Nu-folk group, utilized a selection of electronic and stringed instruments –notably the talharpa, a 4-stringed instrument similar to a lyre – to create a wholly distinctive audio experience that exemplified traditional Estonian music while offering an engaging new take on Estonian fusion. The performers imbued their performance with elements of dry humor and a charmingly poised stage presence that contrasted with the powerful and commanding sound of their set.
Friday evening's performances in Buskirk-Chumley Theater included a festival fan favorite, Kardemimmit. This all-women quartet of Finnish vocalists displayed a mastery of the resonant styles of refi and runo singing, producing a sonorous mosaic of vocal tones that complement the syncopation of each of their kantele. A kantele, in versions of either 15 or 38 strings, produces a sound similar to that of a dulcimer or zither. The songs chosen for the set included both self-composed tracks from new albums as well as the band's own takes on traditional Finnish songs.
[Image description: Kardemimmit performs in Buskirk-Chumley Theater]
The uniquely percussive fusion elements of drum-and-string maqam influences were a thrilling contribution from the Iraqi-Persian-American group, Salaam. The group seeks to act as a musical ambassador for peaceful coexistence among worlds and communities brought together through music. The performance's set list included tracks from their numerous recorded albums, demonstrating a wide repertoire of musical influences from throughout the Middle Eastern region.
The Lotus Festival is an achievement in cross-collective cultural exchange, and the IAUNRC is a proud supporter and sponsor of this long-held tradition providing representation and engagement throughout the Bloomington and IU community.