Kristoffer Rees is an assistant professor of political science at Indiana University East in Richmond, Indiana who specializes in comparative politics and political theory.
As a Central Eurasianist, one substantial challenge that I face in the classroom is sharing my passion for the societies and cultures of Central Asia with my students in relatable ways. Since beginning my career at Indiana University East in fall 2014, I have come to rely on the support of the Inner Asian and Uralic National Resource Center to enrich my endeavors to bring Central Asia into my classroom and to my campus.
With the Center's assistance, IU East hosted a Central Asian culture night in October 2014.  This event brought many of the language instructors from the Department of Central Eurasian Studies at Indiana University, Bloomington, including Senior Lecturers and Fulbright Language Teaching Assistants, to engage in cultural outreach by sharing songs, dances, food, and other aspects of their home cultures with IU East students and faculty, as well as members of the community in Richmond. Saulet Alpysbaeva, one of the performers at the event and IUB Kazakh language FLTA 2016-2017, fondly recalled, "It was a really beneficial cultural exchange for all sides. So many people were curious about us Central Asians!" These public outreach events have encouraged enrollments in my classes, promoted intercultural understanding on campus, and contributed to fulfilling IU East's diversity mission.
In summer 2017, I conducted fieldwork in Kazakhstan as a Title VIII Fellow supported by the Combined Research and Language Training Program administered by the American Councils for International Education. My research investigated ways in which the Kazakhstani state has incorporated the legacy of World War II into the national historical myth of independent Kazakhstan. I was specifically interested in how monuments, memorials, and museums dedicated to World War II Geroi Sovetskogo Soyuza ("Heroes of the Soviet Union") advance Kazakhstani-forward ideas of collective belonging while simultaneously minimizing specifically Soviet characteristics. I was also interested in questioning how the public relate to the monumental identity building projects of the Kazakhstani state: Are these monuments sites of contestation, or are they largely accepted at face value? Through interviews, ethnographic observation, and archival research, I collected a wealth of information that addressed these questions and others that I will pursue in the future.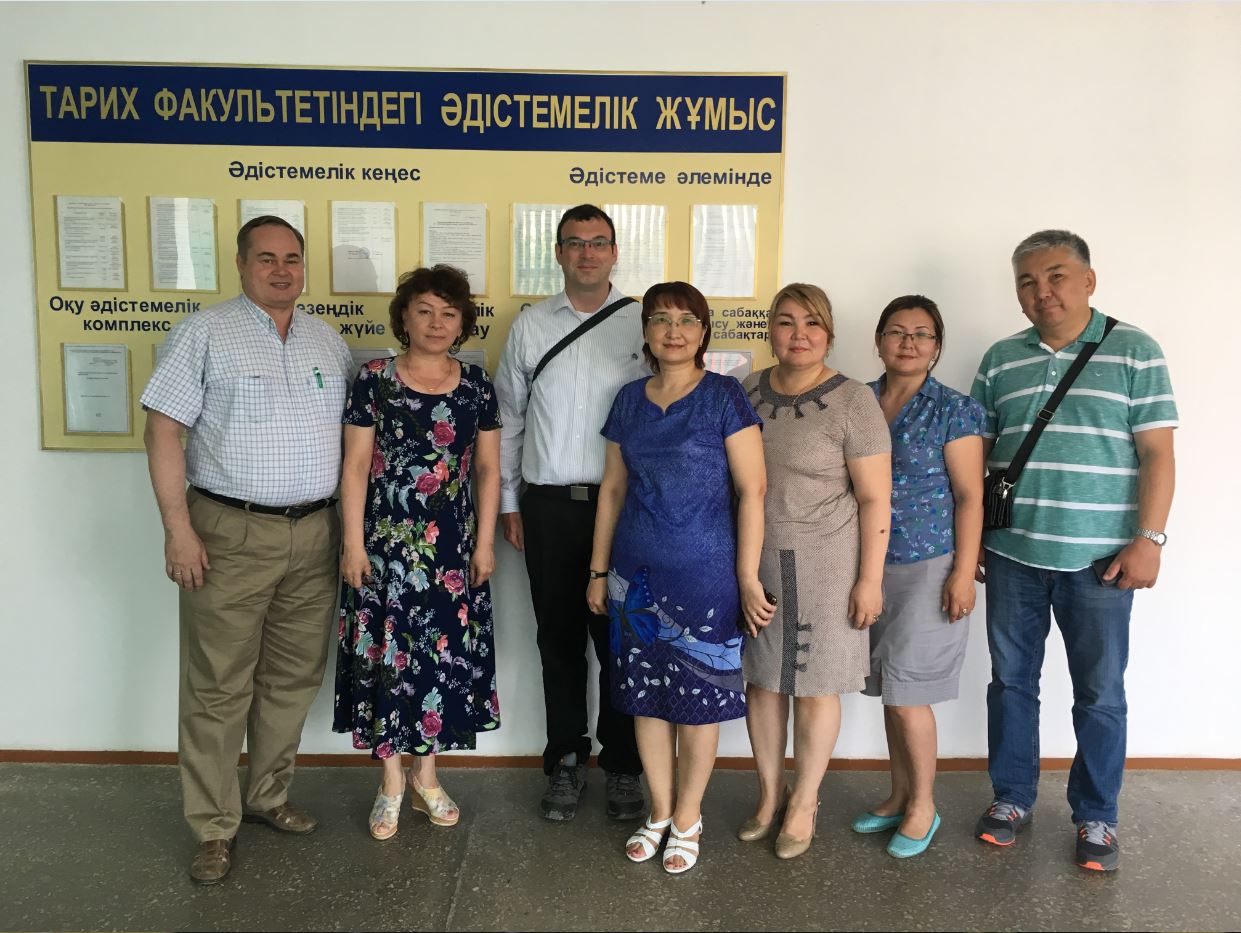 While conducting fieldwork in Aktobe, Kazakhstan, Dr. Rees (third from left) was supported by faculty from Aktobe Regional State University, including (from left to right) Alexander Perevezentsev (History), Gul'nur Kubesova (Tourism), Zhibek Begimbaeva,(History) Gul'mira Kupenova (History), Erke Konbai (History), and Talgat Zhumaganbetov (History).
I face a practical challenge when translating this research agenda into content that can be integrated into classroom teaching. Many political science majors at IU East focus their studies on understanding the nuances of the American political system to prepare themselves for careers in local politics or for law school. Although students are eager to learn more about the "rest of the world," it is not always self-evident how, for example, contestation over identity politics in Kazakhstan relates to issues that students may face as they go about their daily lives, even as civically engaged citizens. The well-publicized controversies over Confederate memorials in the United States provided an opportunity to confront the politics of memory and the politics of history in the United States from a theoretically informed comparative context that drew on my expertise gained while studying the former Soviet Union.
With the support of an IAUNRC Area Studies Course Development Grant, I designed and taught an upper division political science course entitled, "Monuments, Memory, and Meaning," for the first time in summer 2018. Partly inspired by the violent protests and counterprotests that took place in August 2017 in Charlottesville, Virginia, the course contextualized monument-related controversies in the US in historical and comparative perspectives. I placed special attention on exploring the role that monuments play as sites of both "banal nationalism," and political protest. The role that monuments have played and continue to play across the post-Soviet republics of Central Asia, particularly in terms of reinforcing specific conceptions of invented national heroes, and the ways that various actors interact with these monuments after they lose political "currency," together have clear parallels to the changing public and official attitudes towards Confederate and other monuments in the United States. After learning about various approaches to the disposition of Soviet-era monuments and Soviet-era heroes in the post-Soviet space in the course, students were invited to conduct their own ethnographic analyses of monuments or memorials in their own communities.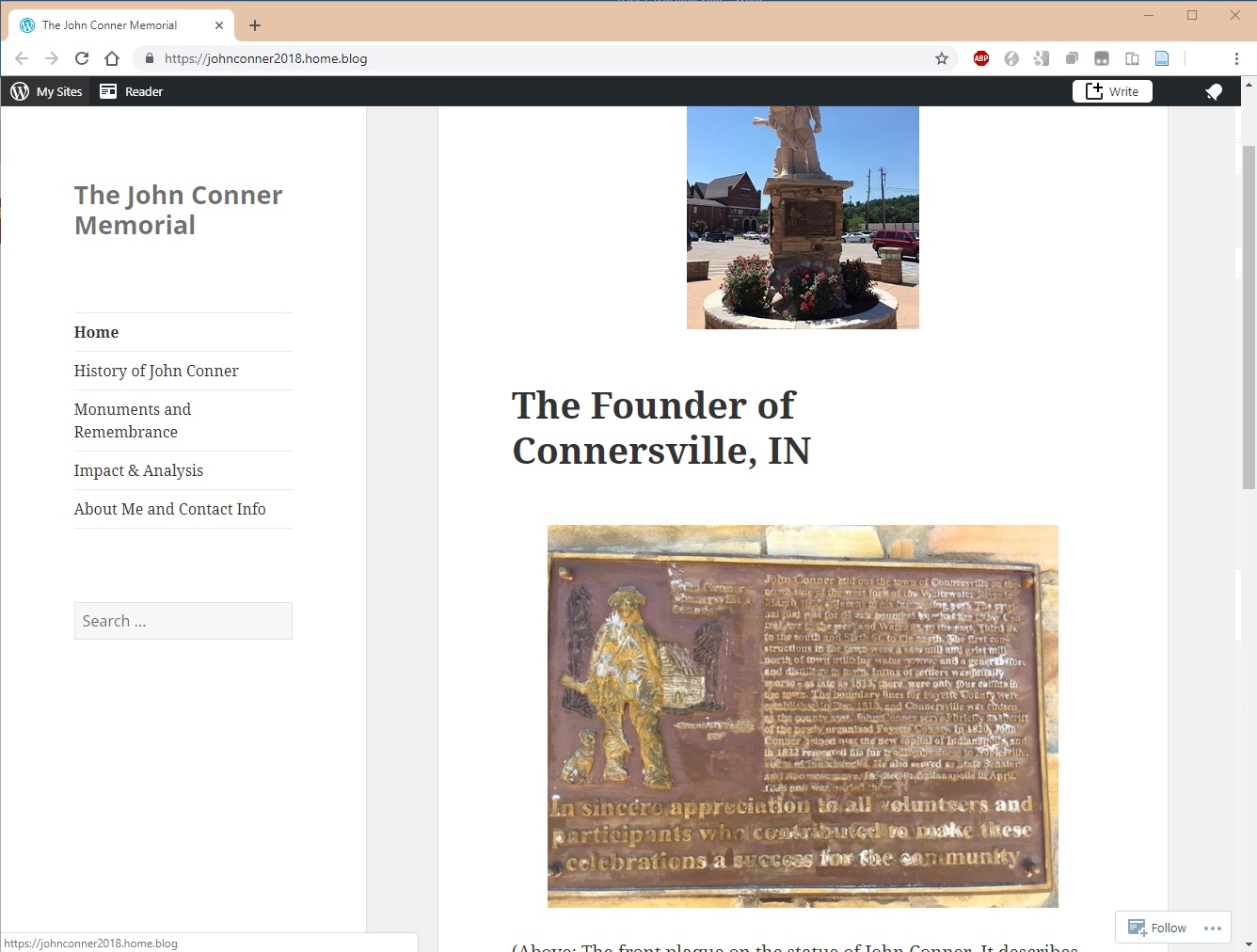 In addition to academic papers presenting their empirical research and analyses, students were asked to create a website the presented their research for a general public audience. One student chose to examine a hero from their hometown, John Conner, namesake of Connersville, IN. The assignment was modeled using the instructor's research into Kazakhstani WWII monuments.  Visit the full example site. 
Both students and faculty found the course to be engaging, and the assessment feedback loops indicated high student attainment of intended learning outcomes. Dr. Travis Rountree, faculty peer reviewer and public memory expert from the English Department at IU East, found the way that Central Asian area studies content was interwoven with content focusing on the intricacies of monumental politics in the United States to be particularly effective, stating that, "The way that the course encourages students to relate the current monument-related controversies in the US to similar experiences in other countries helps students become more globally aware thinkers." The experience of conducting original empirical research grounded in local communities, but analyzed through globally aware lenses also resonated with many students. In unsolicited student comments received after the course had concluded, one student remarked, "Since I wrote [the paper], I really have taken so much more interest in the history of my community and it taught me to examine the history and meaning behind monuments and memorials."
Without course development support from the IAUNRC, I would not have been able to develop and teach this course. Moreover, the positive feedback from students and faculty in this first iteration of the course has led to a revised and expanded version of the course to be taught during the spring semester in 2019. As the course becomes an established part of the political science course rotation at IU East, students also have more opportunities to develop a theoretically informed global perspective that they will take with them no matter their career path. Anchoring this perspective in an empirical understanding of Central Asian affairs helps demonstrate to undergraduate students the importance of this seldom studied, often-overlooked region.