The Hungarian Cultural Association (HCA) in collaboration with the Romanian Studies Organization (RSO) hosted the "Romanian Studies and Hungarian Studies Junior Scholar Conference" at Indiana University Bloomington on March 22 – 23, 2019. The conference featured twelve presenters across two days and five panels, which included presentations from four IU students. The presenters addressed diverse topics related to both Hungarian and Romanian studies, including nationalism and nation building, gender, material culture, twentieth-century Hungary, and minority communities in Romania.
Dr. Hab. Constantin Iordachi delivered the keynote address, titled "Reburials and 'Regenerative' Cleansing: Iron Guard's Festival of the Dead in Romania (1940)." Dr. Iordachi, Professor of History at Central European University in Budapest, Hungary, spoke about funeral ceremonies and their connection to the ideology of the fascist regime through the discourses of martyrdom and salvation. Following the keynote address, Dr. Maria Bucur, John W. Hill Chair of East European History in the Department of History, hosted presenters and conference organizers for a dinner reception.
The two days of panels brought together graduate students and faculty from eight universities, resulting in a stimulating and enriching conference. As a collaborative effort between students from the HCA and the RSO, this conference represented an opportunity for graduate students and scholars in traditionally separated fields to network with and present their research to experts in both Romanian studies and Hungarian studies. This spirit of collaboration resulted in a variety of engaging presentations followed by thought-provoking questions and discussions.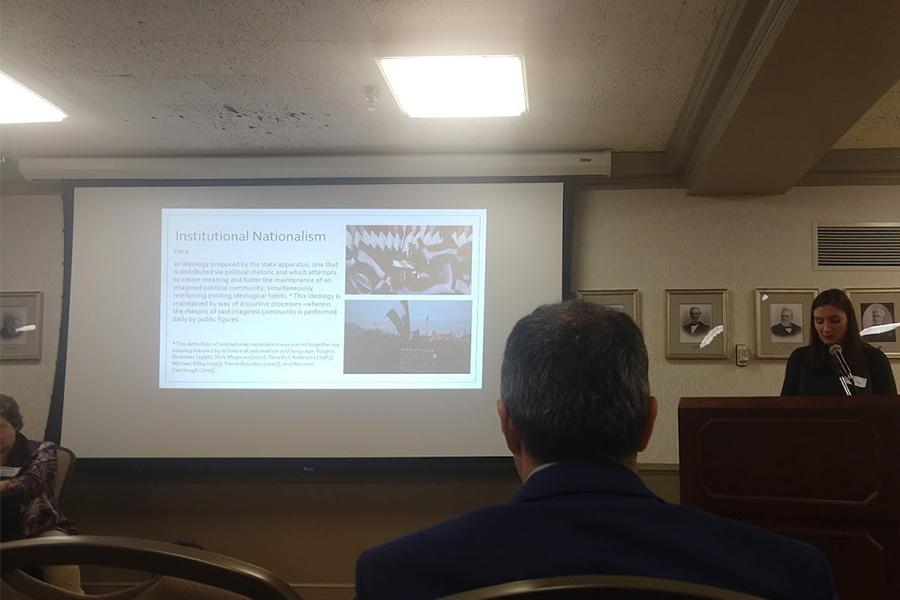 Jessica Storey-Nagy presents her paper at the conference.
This conference was sponsored by the Department of Central Eurasian Studies, the Department of History, the Institute for European Studies, the Russian and East European Institute, the Inner Asian and Uralic Natural Resource Center, and the IU Funding Board. The conference organizers extend their thanks to all students and faculty who contributed to the organization and success of the conference.